Who are we?
The biological asset platform can solve the online transaction of livestock and poultry and break the traditional trading mode of raw capital;
AIOTAGRO is a high-tech company focusing on smart agriculture (AI+IoT), dedicated to solving food safety problems from the source of agricultural production.
what are our advantages?
The physical condition of the living body on the platform can be traced back to its source. Data can be queried. You won't buy sick livestock.




Quarantine standards and live body condition traceability
From brooding to sales, various data of livestock and poultry can be queried
The quality is qualified and meets the quarantine standard

Closed loop of capital trading process to give full play to industry potential
Closed loop of livestock and poultry trading process to achieve efficient trading transactions
Opening up resources in all links in the business process and giving full play to the potential of the industry

Users can get started quickly without complicated operation procedures
Bio-assets can be traded with just one mobile phone, satisfying the ease of use for householders
Break the traditional capital trading model

Mature technology R&D team with Industry resources of the platform
Agriculture, artificial intelligence, Internet of things experts, perfect supply chain system
Cooperation with industry leading platforms to deeply cultivate the field of smart agriculture




Find livestock and poultry on the map

animal broker

Origin of live animals
Regional Quotes

Blockchain traceability

Resell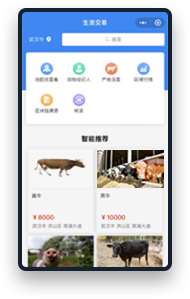 AIOTAGRO
Live Trading Mobile Terminal
New online Safe and Convenient